Fast Racing League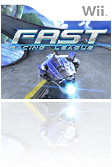 Job:
Genre:
Platform:
Developer:
Publisher:
Release:

Art Direction, all Ingame Graphics
Racing
Nintendo Wii
Shin'en
Nintendo/WiiWare
2011

Our plan was to capture the vibe of the old f-zero or wipeout series and spice it up with new gameplay mechanics to get the best futuristic racing game released on the Nintendo Wii. It was hard work to get the game running in 60 frames per second without loosing the quality of the graphics, but we are very happy with the result. A core feature is the two and four player split screen mode to make this game fun for multiplayer sessions.
The Press
"...A sensational racer, it's far more polished than most full-price racers on Wii...."
Official Nintendo Magazine UK 90/100
"...It's another amazing accomplishment for WiiWare graphic-wise, but like its previous games, it has the gameplay content to back it up. A new F-Zero can wait a bit longer...."
Nintendo Life 9/10
"...Truly breathtaking, without a shadow of a doubt. Shin'en follows up the highly polished Art of Balance and the graphical grandeur of Jett Rocket with a super-fast racing game full of stunning water, fire, ice, metal effects, as well as varied and detailed track locations that moves at a blistering pace..."
Cubed3 9/10
Screenshots