Art of Balance Touch!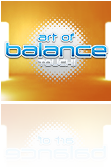 Job:
Genre:
Platform:
Developer:
Publisher:
Release:

Art Direction, all graphics
Physics-based Puzzler
Nintendo 3DS
Shin'en
Nintendo/eShop
May 2012(EU/AUS), June 2012(US), April 2013(JP)

Art of Balance was one of the best reviewed games on the Nintendo Wii, with a metacritic score of 88/100. The press and gamers were really happy with the artistic direction and overall gameplay. We decided to port the game to the 3DS to make the game available for a broader audience, add features to the experience, but staying true to the original. We think this puzzler is a perfect fit for a portable system.
The Press
"...this game looks and sounds amazing. Shin'en has certainly gone out of their way to make another great looking 3DS game. The colors are presented in light and zen-like way, giving of a warm feeling to them..."
Fanbolt 9.5/10
"...the game shines in all other aspects, especially its presentation and controls. Art of Balance Touch!'s graphics are polished, and the 3D looks great, but it's the subtle changes Shin'en made to the settings in different worlds that truly impress..."
Nintendo World Report 9/10
"...Varied, addictive and engrossing, Art of Balance TOUCH! is another eShop gem. It's been polished to a sheen and there's bags of content to be found within..."
3DS Tribe 9/10
Screenshots